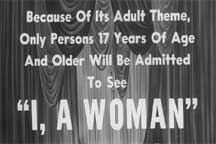 File this one under "if you wore a short skirt, you asked for it." Except this time, it's coming from women who call themselves feminists. Case in point: Mary Anne Layden, professor of sociology and women's studies at Wheelock College in Boston stating, "The more pornography women use, the more likely they are to be victims of non-consensual sex."
It's true that women are watching pornography for sexual pleasure and partnered enjoyment more than ever. While many of us see this as an exciting new chapter of women challenging the world to deliver sexual pleasure (and entertainment) on our terms for a change, a small subset of women are seeing the explosion of female porn viewers as an opportunity to scare us away from taking back our right to watch. It's been surprising to many women that the most sexist theories about female porn viewers are coming from feminist women. The sum of Layden's message to women is that if you watch porn, you now know what will happen. Never mind that her assertion of 'fact' makes no sense -- unless you peel back the veneer of this logic. Women: explore the man world of sex, and you will pay the price. It's a man's world, after all. Then again, so was voting. Layden is a teacher. She knows she is telling women, and journalists, what to think. Her claims are completely unsubstantiated, and this in and of itself should have her up for review. Any media who sourced this wingnut as an authority when she had no data or facts ready for checking, should be fired.
I'm just tired of seeing these scared women afraid to have an honest conversation about porn's female viewers without pulling out all the predictable stereotypes -- and acting like sexist old men about what we're figuring out together. (Without them.) It's increasingly difficult to believe that women in positions of influence (Layden) that invoke punishment and shame and fear of the unknown, actually have the greater good of female sexual empowerment and gender equality as their goal. Because what they're preaching with hellfire and damnation sure sounds to me like someone whose interests are best served by keeping us in our places.
The woman who brought this to my attention is Miss Maggie Mayhem; a writer, performer, sex educator, feminist and activist (just returned from volunteer rebuilding in Haiti). She also faces off with the (lucrative) trend of female porn addiction. Her blog is not work-safe and has images of nudity, so don't click if you're at work or might be unprepared (or not of age) for adult material. Ms. Mayhem writes in Porn & Rape? --
(...) Even in an article about the "record setting" number of women utilizing porn, the article still relies on the age old dichotomy of women as emotional creatures for whom sex is a means to love and romance and men are just horny visually stimulated animals. Not just men, of course, young men and women. That's because being sexual is something that you grow out of when you mature, of course.

When gender is singled out in this manner it reiterates the notion that women who are interested in sex for fuck's sake are unnatural aberrations. It's also known as slut shaming. As a whole, more women stated preference is for sexual literature but that is because it makes their genitals gush rather than their hearts. No one read them in the bathtub because they were thinking about how they were going to tile the floor when prince charming rescued them. Cheap paperback editions mean that no one cries when it gets dropped into the suds when the shower nozzle is pulled out.

But hey, the title of the article itself is, "More women lured to pornography addiction." This is because women are sweet and innocent emotional Red Riding Hoods websurfing their way to Grandma's House of recipes and quilting when the Big Bad Pornographic Wolf found them and led them astray. I don't think women are that naive. I think women use that search bar, read those reviews, and comment on the forums because they want to watch porn. (...read more, link NSFW)