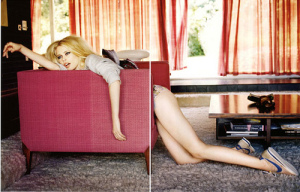 Last week, a reader asked About.com's Cory Silverberg if her porn watching habits were interfering with her libido. I think a lot of us have put significant thought into our porn viewing, from what we watch to what it means for us. We love how well it can work to get us off and give us fantasy fodder. But when something goes awry with arousal, it's tough to know our own personal grey areas when it comes to figuring out what's affecting our sex drives.
Silverberg's answer is required reading for any porn watching girl who's had this question, and it might even be good for anyone that has wondered what's going on when they find they're having a hard time getting turned on, even though everything's fine when they're alone and watch their favorite kind of porn.
Here's a snip from Is My Porn Habit Ruining Sex With My Boyfriend?
Q: I'm a woman in her late twenties and I've been with my boyfriend for more than two years now. I'm in love with him and attracted to him, and I think our relationship is pretty healthy. Lately, though, I've been having a hard time getting turned on. It's occurred to me that it's related to my watching porn. (…)

A: Thanks for asking this question. Most public conversations about pornography fixate solely on men and how they watch (or over-watch) porn. But the truth is that people of all genders watch porn, and most of us have at some point questioned how healthy or unhealthy it is, particularly when we are also struggling with some aspect of sex with other people.

(…)

To Porn or Not to Porn: Must That Be the Question?

You're not necessarily off on the porn thing. We all can easily get habituated in a sexual routine, that is, get into a sexual rut and stay there for a long, long time. If you're in the habit of always watching porn when you masturbate, by all means, take a porn vacation (not the kind where you go away to Hedonism with porn stars — the other kind, where you don't watch porn for a while).

If you've been able to masturbate to orgasm ever in the past without porn, you can do it again. It may take a while, but you can get back to that non-porn inspired place. If you're really struggling, using a vibrator may help. Some people say that's substituting one prop for another, and that the goal should be "natural" sex meaning "just the two of you." I have to preemptively, and respectfully, disagree with this idea.

Forget what you think you know about "natural sex." There's no such thing. (…read more, sexuality.about.com)
Image by Ellen Von Unwerth.