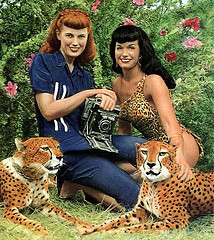 How do you feel about the idea of obscenity — or other people telling you what you should think is obscene? A lot of really thought-provoking items about pornography have come up recently, and they touch on themes we've been exploring here and on the Our Porn, Ourselves Facebook page (which now has over 3,000 members!) -- read on:
The same "War On Porn" people who inspired Our Porn, Ourselves (and make their living off anti-porn hysteria) were very excited about the John Stagliano porn obscenity trial in Washington this week. Founder of Enough is Enough (where you can purchase a variety of religious products to save the children) Donna Rice Hughes said, "The pornographers know exactly what they're doing and they're not going to respond to anything but the stick of the law."
Ouch! Okay little Johnny, now take the blow-up doll and show the nice doctor where Donna Rice Hughes hit you. As it turns out, the stick Hughes and the War on Porn gang wants to beat filmmakers with is so outdated it doesn't make sense and so full of intentional falsehoods it got tossed out of court (Stagliano's case was dismissed today for those very reasons).
You have to admit that now with the "War on Porn" group and its media presence, the anti-porn feminists and anti-porn Christians are officially one and the same.
Reason Magazine covered the trial and produced these two thought-provoking videos:
In other exciting news, Ms. Magazine interviewed anti-porn poster girl Gail Dines and came away with a refreshingly balanced article -- including the input of gorgeously diverse porn star, Latina BBW (Big Beautiful Woman) April Flores. Most shocking was the commentary disagreeing with Dines that came from her former intern -- who is now a porn performer herself. Don't miss Porn: Pleasure or Profit? Ms. Interviews Gail Dines, Part II. Dines famously campaigns against porn as "for profit and not for pleasure" while shocking audiences into moral panic for profit. We're looking forward to Part III in the series.
It's only once a month right now, and we're eager for more of The Ethical Pornographer by Garnet Joyce (site is not work-safe). In our combined mission to unite, find and enjoy ethical pornography of all kinds, Joyce is interviewing (and starting to help define) pro-woman, ethical porn makers. It's very exciting. From the male side, Grey's Matters just launched Pants-On Porn Reviews: A more cerebral look at adult films with an eye towards what they can say about human sexuality, gender, the people who make them as well as we the viewers.
In the UK, it seems that feminism is seen as good because it is anti-porn -- which seems so dated and like Backwards Day compared to America. The politically motivated anti-porn and anti-sex worker rights organization at the forefront is OBJECT, a feminist org that not only categorically operates with the belief system that links adult imagery and violence towards women, but are notoriously intolerant toward any other point of view. Well, good thing times are changing: you can now add OBJECT WATCH to your pro-porn blogroll, as they're now the much-needed beginning of a watchdog group to monitor OBJECT's typically unchallenged activities, statements and opinions.
Photo of Bettie Page with Bunny Yeager.