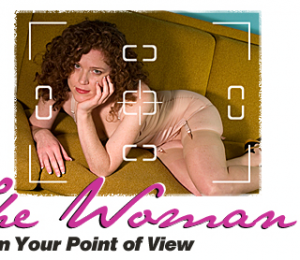 I've been watching The Woman's POV (link NSFW, has explicit porn imagery) with much interest – a new site by feminist performer, feminist pornographer and feminist art gallery owner Madison Young. It combines hardcore porn by women, for women lesbian and queer flavored with sex and culture content. It's half paysite and half essays and toy, book and video reviews, all exploring the female point of view (POV) on watching, making and getting off on porn. I love it. The site is just getting started, so the content is just building up and updating weekly, but what they have is really fantastic.
The site's nav is a little clunky, but the video teasers are hot, and they're building a Feminist Porn Network community. What I find very interesting about this is seeing links to female porn performers (where they are performing) and showing viewers which women have self-identified as feminist. These female performers, if you look at their online presence, can be found to be fully versed in various stances on women and pornography and feminism - and where they fit in the pro-porn feminist ideology. They are not bubbleheads saying the word "feminist" because it is the thing to do, and they are open to engaging anti-porn pundits in debate on any level (Maggie Mayhem, Madison Young, Courtney Trouble, many others). This aspect dispels a significant assumption about women who make and perform in porn (even "extreme" porn, as some of these women do) - that these women are unaware victims, or somehow duped or coerced. The Women's POV seems to be actively seeking self-aware, educated women in porn to create a community that dispels myths and empowers women that participate in porn, and women who watch porn.
I like the balance they've got going on, and their manifesto is energizing - talk about the new new wave of feminist porn... This is like feminist porn from the future, far outside of the rigid dogmas about women, sex, and pornography in wider feminist culture(s) - or mainstream porn culture. Send this link to the nervous anti-porn feminist nellies who run conventional thought about women and porn in the UK, and they'd need their smelling salts. And that's not just a good thing; I think it's necessary. This website and its community is an act of visibility.
Here's The Woman's POV Value Statement:
The Woman's POV is dedicated to the authentic documentation of female pleasure and orgasms. We realize the power of orgasm and plan on changing the world one climax at a time.

We are devoted to showing diversity in female identity, the expression of feminine sexual desire, diversity of body types, as well as a wide spectrum of sexual and gender identities.

We are devoted to empowering women and creating safe space for exploration of sexual desires and fantasies by handing women in our community the camera. Its time to turn on the camera and get turned on.

We are dedicated to obliterating body shame and sexual negativity through realizing and documenting of our sexual desires and our sexual culture.

We are ready to reclaim the term pornography and recruiting YOU and YOUR LOVER/S and FRIENDS to pick up the camera and show us YOUR POINT OF VIEW.
They're currently taking international and domestic submissions.