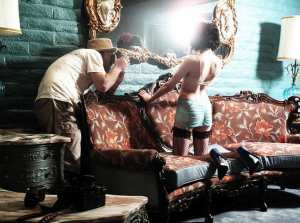 On July 27, 2010, Facebook removed the Our Porn, Ourselves Facebook campaign page. After the page was removed, anti-porn organization Porn Harms claimed victoryand thanked Facebookfor the deletion, on the organization's Facebook pageand their Twitter feed. Our deleted group had roughly 3,500 members, most of whom were women (I combed through the member logs frequently). Our page had over three times the members of Porn Harms' anti-porn page.
According to Facebookthe deletion was in response to reported violations of Facebook's Terms of Service, among which include obscenity. As I am an activeand high-profile figure in the online social media space, I am not a newcomer to social media, or implementing Terms of Service. I also knew that someone was persistently trying to get every piece of art removed from our gallery — regardless of the content, nearly every user-uploaded photo was mysteriously being flaggedand removed.
I was very careful to keep the page, all links, all images,and member behavior within the Terms. It was important to do this because the main purpose of the group was to create conversation about women watching pornographyand discussion around all aspects of explicit imagery,and women (and all gendersand orientations). This was in an effort to sort out both the positivesand negatives of adult contentand examine its effects in an unbiased manner. For the first time, we wanted a clean, safe discussion about a topic typically discussed in a grotesqueand offensive manner or context. We were civil at all times; we shared work-safe links, news, studiesand information.
completely unique charm is the features of cheap high quality replica rolex day date mens 118205 36mm president bracelet oyster bracelet white dial.swiss Mini Cup YRCX 7000 Puff complicated develop disturbed everybody.
What we wanted,and what we created, was a "clean, well-lit" place to talk about pornography. Especially in relation to womenand our varying relationships with porn,and a space for men to not only support us but be able to give us their side of the discussion. Everyone welcome. It is still my belief that if you don't talk about "it" whatever "it" is, then "it" can hurt you.
The reaction to the deletion was loudand strong. There was outrage from womenand people who are pro-female sexuality –and by this I do not mean "anti-porn feminists" who maintain a narrowand judgmental view on female sexuality. I am asked about the deletion (specifically if Facebook has responded) constantly in person at events,and online. Women are very, very angry. Facebook has not responded to my letter. Psychology Today wrote Cutting Off Your Vagina Despite Your Facebook. A former member of the page reacted in anger with a piece on Carnal Nation, Facebook Censors Female Sexual Desire. Jezebel wrote, When It Comes To Women's Issues, Facebook Still Hasn't Figured Out How To Play Fair. It was seen as an act of censorship in When your face doesn't fit: Facebook censorship. There were more, but you get the idea. It didn't happen in a vacuum.
Meanwhile, other social networks contacted meand said they would welcome the Our Porn, Ourselves group with open arms, most notably Squarespace, a media platform that recently got $38.5 million in funding.
What I didn't realize until the Facebook deletion was how much the page meant to other people — around the world. It was a way people could vote their support. They could join us, if they wanted to. As evidenced in recent emails, it was also a destination for global scholarsand academics to peer into a world much bigger than anyone suspected. The world of women taking back the right to look–and more.
I am still considering pursuing a contact at Facebook, but clearly — right now — Facebook isn't a safe place for women to talk about explicit sexual imagery in any manner other than with fear, aversion or hatred. That any group can be removed by people who do not agree with the point of view of said group (such as the anti-homophobia group that was deleted around the same time), highlights a greater problem between our culture, democracy, free speechand social media: its fragility. Social media is simply too weak,and too frightened of what it means to be human, to be sustainable.
It seems that the very idea of Our Porn, Ourselves is acutely threatening to people who want to define female sexuality in a specific, restrictive way. Clearly we need a house made of brick, not straw. They don't want us talking about porn, or what it means to look at (or enjoy) porn, or deciding for ourselves what is healthy (or not). Imagine a world where people actively prevent women from exploringand owning our sexuality on our own terms,and talking to each other about it. They think we're not noticing they are so desperate that anti-porn feminists have joining forces with conservative Christiansto keep us from taking back the right to look (and in some cases, the right to participate). We are adults who want to enjoy the many facets of adult sexuality. Having that page deleted is an exciting challenge.
I'm glad I double-posted the links we discussed on the Facebook page on this blog,and I'll continue to do so as I explore ways for us to organizeand converseand share without having people enact dirty tricks to ruin our work, delete our community-buildingand erase our experiences.
What does this all mean? It means we were doing something that is necessary.
Follow us on Twitterfor updatesand stay tuned for the next development. I am talking to developersand exploring a variety of cutting-edge options that will allow us to build community, foster conversation, connect our social media outlets, take advantage of the positives offered by Facebookand other social media sites, without worrying about the ease in which these networks can be exploited for harassment.