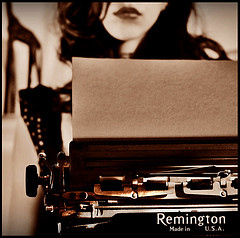 When Stop Porn Culture (the org behind this month's Feminists Against Porn / Stop Porn Culture conference) appeared on the scene in late 2008, I investigated them for my San Francisco Chronicle column. Aside from my pro-porn opinion, I had serious concerns about the ethics, honesty and legality of what I was seeing. In Please Use Porn Responsibly I discovered that the main website for the nonprofit was made by Christian conservative extremists; currently the website is hosted by a notorious Mormon web hosting service. They gained their initial traction by appearing to be unbiased — and non-religious. After my article was published, a blog called "NewsBusters, a project of the Media Research Center (MRC), the leader in documenting, exposing and neutralizing liberal media bias" ran a hit piece on me. Here's a snip:
(...) But when people like the extremist feminist group Stop Porn Culture tells us that porn is harmful, their arguments make just as much sense as the ones above. Never mind the fact that SPC is a traveling anti-porn road show that displays over a hundred extreme hardcore images to all comers (no puns; they don't check IDs at the door, nor do they provide the federally required documentation to show that none of their sexually explicit images include children). They perpetuate myths and unsubstantiated claims that porn -- they say all porn, but only show us the really extreme stuff -- is responsible for exploiting women, providing dead-end economic choices for young girls, fostering racism, fostering hatred and degradation of women, and they totally totally promise (while admitting on their own Web site that there is no hard evidence) that porn is a causal factor in rape, child abuse and domestic violence.

(...) It's all is based on the assumption that there is no such thing as healthy porn use, and that there's no such thing as healthy porn. And that all porn is the same, and that the mainstream porn industry isn't being killed by the Internet giving us all, finally, freedom of choice and we don't have to watch things that makes us go "ew" anymore because that's all they carry at the local Jack Shack. Please, no one tell them the truth. Someone's got to keep the millions of us normal, porn-loving peoples of all genders, races and sexual orientations entertained with a little haunted house fiction.

The real shame and harm is that organizations like SPC are so busy with their questionable beliefs -- and truly exploitative tactics -- that no one even gets a chance to find out that no, you shouldn't imitate what you see in porn: It's not safe sex. The sexual fantasies portrayed in porn -- especially the extreme ones -- like all adult sexual situations, require context (which is exactly what SPC removes). (...read more, sfgate.com)
Photograph by Lauren Bentley.