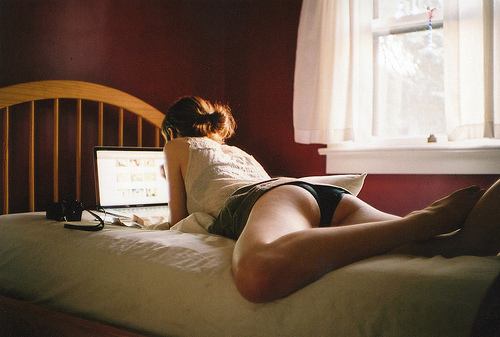 Sex & Relationships Examiner Sarah Estrella writes,
Last week I reported on the Stop Porn Culture conference and the resurgence of an anti-pornography movement rooted in feminism (click through, because there's some very interesting discussion happening in the comments section).

Not surprisingly, it turns out that not all women are comfortable with throwing the F word around in association with an anti-porn stance, and feminist critiques of adult entertainment are becoming increasingly outdated as more women become involved in every aspect of the production, distribution, and consumption of pornographic materials, and are actively shaping the adult industry to meet their demands while they're at it: Within 24 hours of posting my article, a new coalition of sex-positive and pro-porn feminists was coming together under the banner of Our Porn, Ourselves, citing my article and news of the Stop Porn Culture conference (June 12-13 at Wheelock College in Boston) as part of the inspiration.

(...) To that I'd add that feminism and pornography are no longer incompatible, if they ever were, and both are becoming more progressive than you might imagine (witness such phenomena as the recent 5th annual Feminist Pornography Awards). As one set of feminists are returning to the old right wing rallying cries of Andrea Dworkin, another set is increasingly participating in the means and ways of production of adult entertainment, and becoming a significant portion of the audience for pornographic material as consumers. As a result, the old charges that pornography is about a male-centric and sexist objectification of women are falling apart. To be sure, there is still plenty to talk about, plenty to protest, and plenty to change for the better in the adult enterainment industry – particularly around violence against and exploitation of women, to the extent that each still exist – but the argument that feminism is by definition anti-porn just doesn't hold up anymore. (...read more, examiner.com)
Photo by xcodyjamesx.