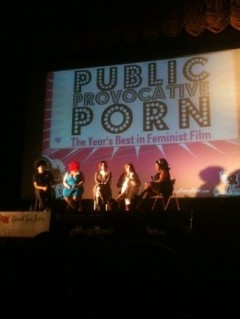 I know it's a very provocative headline, but it's quite accurate. Essentially, self-identified anti-porn feminist and anti-porn conference organizer Gail Dines describes via media such as Guardian UK what she depicts as the reality of today's porn: specifically women's direct roles in porn and in porn culture. Media outlets have run Dines' definitions and descriptions as direct reporting. The problem is, and what we're now seeing first-hand, is that Dines is truly, and very obviously not reporting the facts.
February 2nd Las Vegas Weekly ran Feminists Gone Wild: A Response to Gail Dines by Lynn Comella: a direct confrontation of what Dines is stating as fact in news outlets. And with this first-person report, it's hard not to feel outraged that outlets such as Guardian UK, Mother Jones, and others who have not fact checked Dines will run inaccuracies so readily. It is actually downright scary when you think about the wider context of what else these media outlets might be doing under the guise of "[blank] is bad." Excerpt:
Unlike Dines, I attended this year's Expo (and the last three Expos, as well). But more to the point, I moderated and helped organize the women's seminar for the second year in a row. Even a cursory glance at the Expo program—which was available online, and which I assume Dines looked at because she referenced the seminar by name—would have revealed that joining me on stage were two feminist sex toy retailers, a feminist sexologist and author, a female porn producer and a male sex toy designer—the first man ever invited to be part of the women's seminar.

(...) As scholar Shira Tarrant notes in a recent review of Pornland, Dines fails to address counterevidence that might complicate her story of porn. According to Tarrant, "Dines is silent about feminist porn. She presumes that women who watch are coerced by the men in their lives or duped by a culture that rewards women for exploiting themselves." Dines omits any discussion of queer and gay porn, and makes broad claims about porn's hold on men's psyches that are difficult, if not impossible, to prove.

Had Dines actually been in Vegas and attended the women's seminar this year, she might have learned a thing or two about the women's market for sex toys and pornography, including the fact that female entrepreneurs have helped bring a concern with quality products, sex education, ethical porn production and alternative sexual imagery to the adult industry. Overlooking these things or, worse, pretending they don't exist is like narrating a history of college athletics without any mention of Title IX.

More than just a niche, the women's market has been at the forefront of adult industry trends for the past decade. Feminist porn producer Tristan Taormino, who directs her own line of films for Vivid Entertainment, the biggest porn company in the world, is a case in point. Taormino is a multiple AVN Award winner. She prioritizes safe, respectful and positive work environments, which includes collaborating with performers about whom they want to work with and what their scenes will consist of. Her films feature hot and sweaty sex, female orgasms and, yes, genuine intimacy.

There are dangers in trading in gross generalizations about any social phenomena. There are also dangers when academic researchers are blinded by foregone conclusions—e.g., porn is bad—to the extent that competing evidence is ignored, events are misrepresented and claims that cannot be readily substantiated are trotted out as fact. (...read more, lasvegasweekly.com)
What is being shown in articles such as Feminists Gone Wild is that Dines is not even present for the events she describes, nor is she reporting anything accurate. I find it deeply disturbing - as a mainstream media writer, who requires their medium to make the best effort to be accurate and honest - that mainstream media accuses bloggers of neglecting fact checking as compared to what is becoming such an egregious example: the distortions of Gail Dines.
[Image: stage shot of Fifth Annual Feminist Porn Awards in Toronto via Examiner.com]