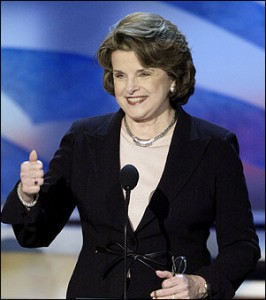 Mine did. And I'm not happy about it, at all.
This week, Christian anti-porn groups Porn Harmsand Morality in Media -and their pet project The War On Illegal Pornography – issued a press release bragging about how they got Congress people to sign one of their bizarre petitions: More Than 100 Members of Congress Sign Letters Urging Attorney General Holder To To Enforce Federal Obscenity Laws.
The actual number of signatures is 42.
Mainstream news reported things a bit closer to the truth: in Forget Jobs, Warand a Government Shutdown: The U.S. Senate Focuses On Porn, TIME stated the signature number was actually 42. It's a good article by a seasoned reporter explaining what's on the horizon. Unfortunately, the reporter didn't qualify that the "research" cited in his piece is the product of a Morality in Media campaign to create data they can use: the kind of researchand data that was not independently verified,and does not stand up to standardsand practices that citable dataand research is held to.
This development is deeply troubling, if at least in that members of Congress can so easily be taken in without due diligence. They've signed a petition created by a group of people widely recognized as a bunch of religious wingnuts.
rolex datejust mens m126331 0014 rolex calibre 2836 2813 two tone is very special in our store.best rolex day date 41mm m228398tbr 0033 mens gold tone review has made use of countless distinguished elaborate functions and skills.
Here's a link to the .pdf of the petition in which members of the U.S. Senate urge the Department of Justice to "examine evidence" provided by Pornography Harms to move forward on creating more obscenity prosecutions against people making porn in the United Stares.
The Porn Harms press release clearly states "More Than 100″ while their own link to the petition clearly shows 42 signatures.
This is really important.
Throughout the history of this country, fringeand extremist groups have employed similar tactics to manufacture factsand prosecute groups of people as a result of religiousand moral crusades. This reminds me of fake propagandaand petitions against gay marriage (which Porn Harms opposes), current campaigns against interracial marriage,and – perhaps most especially – the McCarthy Era communist witch hunts.
The Porn Harms press release speaks volumes: however, as this is a blog about womenand pornography, it is especially remarkable in that it is clear they are not speaking for women. Unless those women are victims; no, the 1 in 3 American women who are just fine with their porn viewing are not included here. As usual, we are invisible,and so is our right to watch -and decide how we spend our masturbation time. Their definitions of pornography also do not include the gay porn industry, which is a glaring oversight if even from a financial perspective.
This petition,and its press release, is an openly stated product of February's Southern Baptist Convention.
Morality In Media Reboots Their "War On Porn"
The press release states that "obscene pornographyand evidence of its harms have multiplied" – when in fact multiple independent sources have emerged to show studies saying there is no evidence of porn's alleged harms. The release states that "In the past several months Congress has experienced a public outcry" – problematically, Porn Harmshas a well-documented history of manufacturing outrage,and bragging about it.
Here is how crazy the press release gets:
Pornography addiction is rampant, leading to grave social costs documented by a plethora of researchers at http://www.pornharms.comand at a groundbreaking conference held by the Witherspoon Institute at Princeton University entitled, "The Social Costs of Pornography" (www.socialcostsofpornography.org). Violence against women, increased sex trafficking, divorce, addiction to pornography by childrenand adultsand many more societal ills can be traced to pornography consumption, according to research.
But it's not just the Porn Harms press release that sounds like the boilerplate for extremist tracts used around the world. The petition signed by 42 Senators includes this:
Last June, an important briefing in the Capitol outlined how pornography has changed, becoming more harmful, addictiveand available,and linked to other crimes. Researchers, scholarsand other experts explained, for example, how today's hardcore pornography is typified by extreme violence against womenand how pornography consumption can contribute to sexual harassmentand sexual violence. Another expert warned that Internet adult pornography normalizes sexual harm to children, while another addressed the growing connection between pornographyand sex trafficking. You should also be aware that the next version of the American Psychiatric Association's Diagnosticand Statistical Manual will include a disorder that includes pornography addiction.
Set aside for a moment that there is no universally agreed-on definition of "porn addiction" (outside of anti-porn businesses that sell "cures")and that no objective researcher can categorically state that it "porn addiction" even exists.
The "important briefing in the Capitol" in the Senators' petition is last June's Pornography Harms Briefing- which included born-again Christian Shelley Lubbenand anti-porn feminist Gail Dines. It's important to remind those who promote Dines' agenda that she is deeply linked to American Southern Baptist extremistsand shares their views. These views, I believe, would be very unsavory to most women who identify as feminist.
The Pornography Harms Briefing was big on fearand short on fact.
Needless to say, Porn Harms, The Social Costs of Pornography, Candeocan,and every one of the players behind the petition stands to gain financially by these developments. The harms of pornography is their business,and a very lucrative one at that. Now they're backed by the following Senators – is yours one of them?
Charles Grassley, Orrin G. Hatch, Michael S. Lee, Tom Coburn, John Kly, John Cornyn, Lindsey Graham, Olympia Snowe, John McCain, Roger Wicker, Saxby Chambliss, Mike Johanns, John Barasso, Kay Bailey Hutchinson, Jerry Moran, Bob Corker, John Boozman, Pat Roberts, Dan Coats, Tom Carper, Bill Nelson, Mike Enzi, Roy Blunt, Marco Rubio, John Isakson, E. Benjamin Nelson, Joe Lieberman, John Hoeven, Kelly Ayotte, James Risch, Thad Cochran, Richard Burr, Ron Johnson, Mitch McConnell, Mark Kirk, Jim DeMint, John Thune, Mike Crapo, Mark L. Pryor, Dianne Feinstein, Lamar Alexander, Amy Klobuchar.
My question is: do they realize what they've signed on to? And do their now-stated religiousand sexual values reflect yours?