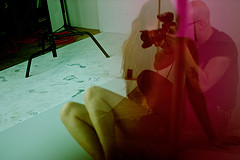 If you're a girl who has never really seen pornography, admitting to yourself that you want to watch porn or explicit sexual imagery may take some — or a lot of — forethought. And if you think that all porn is nothing more than pool boys and women with poor payment negotiation skills and eternal bad hair days (or worse: women being coerced into doing something they don't want to), then the realities of today's porn will come as quite a surprise.
One of the major obstacles that we women face is the widely held notion that women don't respond to sexual imagery as men do — a notion that is absolutely untrue. We are told we won't like it. But on our own, with a wide selection of the many different kinds of porn, and especially porn made by women, for women — we find out that we do. Recommendations for high quality pornography made by women, expressly for women are at the end of this article.
In her 1994 study, Dr. Ellen Laan of the University of Amsterdam proved that women respond physiologically to sexual images, even when the women said that the porn they watched was boring or unarousing. When seeing the sex onscreen (whether from male or female directors), their genitals congested quite robustly, thank you very much.
According to many studies, lots of women watch porn, and like it, too. We can find out how the performers feel about their work by reading their blogs and doing our homework on the pornography we're considering. This is the first time in history that female porn performers have the freedom to talk about their work unfiltered. Now that the Internet has given female porn viewers the privacy to explore our reactions to explicit sexual imagery on our own terms, we're finally allowed to decide for ourselves how we feel about, and react to porn.
Many women are finding that pornography is a sex toy that is as reliable and their favorite vibrator, and is as versatile — it can be easily shared with their lovers. Lots of women watch porn, and are none the worse for it. Read why in my CNN article Are more women OK with watching porn? (cnn.com).
Women like to watch, and — guess what — it's not exactly "breaking" news. In late 2007, Nielsen Netratings revealed that 1 in 3 users of porn were women, and over 9 million American women accessed adult sites in September 2007 alone. The same year (2007), a sociology researcher at conservative Brigham Young University found that half of young women surveyed believe that viewing porn is an acceptable way of expressing sexuality. And in women-friendly boutiques such as Babeland, women make up 80% of the porn rental and purchase market.
Going back in time, in a 1987 Redbook survey of over 26,000 female respondents nearly half stated that they regularly used porn. And it's not just the "wild ones", either: a 2003 poll by taken by Today's Christian Woman readers found that even good church-going women were peeking at the odd bit of porn: over 34 percent of female respondents to their online survey self-disclosed that they had deliberately gone looking for porn. Articles from sources such as The New York Times and MSNBC have asked "What Women Want" and answer themselves with the resounding response, "Women are hungry for porn." In 2004, the New York Times told us in no uncertain terms that Women Are Tailoring Porn to their Eyes. In the 1996 book Defending Pornography by ACLU president Nadine Strossen, "Women, either singly or as part of a couple, constitute more than 40 percent of the adult videotape rental audience. . ." In 1989, Good Vibrations added adult videos to their catalog, at the demand of female staff and customers. And as consumers, women are changing a market once considered a boys' club — female directors like Candida Royalle are selling hardcore erotic videos made by women, for women at the rate of approximately 10,000 titles a month.
What Can A Girl Expect? A New Woman's Guide To Porn
Once you feel okay with using porn as a sex toy, there are a few things you need to know before you get started. First, keep your expectations in check — you're not going to see anything like the mega-budget Hollywood blockbusters (but with sex included) that you're used to. Why not? Because outside of Hollywood studios, no one has that kind of money, or those resources to throw around, especially in a film genre that's controversial.
A great place to start is this free chapter from my book on Oprah The Smart Girl's Guide to Porn: Chapter 3 – I was a Porn Virgin (oprah.com). You can also click to listen to the introduction and hear my personal journey looking for good porn for women.
The quality you're going to see is like daytime soap operas; with simple sets, standard lighting, digital cameras, and barely there acting. Unless you go with a film from a bigger studio — because the world of porn has a studio system just like in Hollywood. The big studios have bigger budgets, better sets, actors who might have gone to acting school, writers who have writing experience, and directors who are more likely to take their craft seriously.